Chewton glen treehouse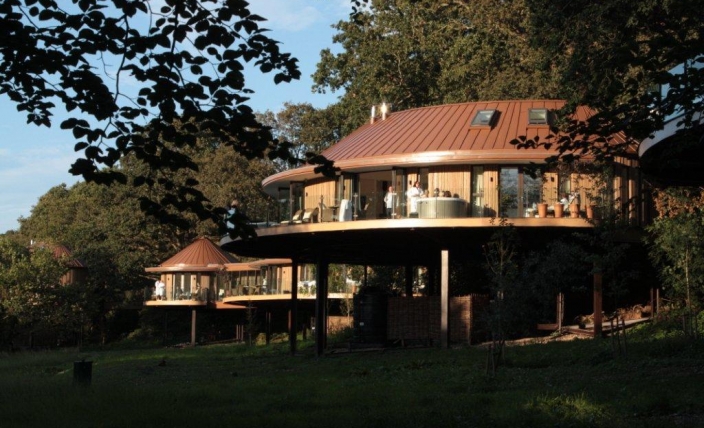 Our Tree House Suite had a real wow-factor and was beautifully decorated. It had a well-equipped kitchenette with lots of cute containers full of sweets, teas and cereals.
There was a fancy coffee machine which -with the help of the instructions- made good coffee. The Living Area was very cosy. Blankets, underfloor heating and the stove kept as nice and warm from the humidity and cold-ish weather. The main bathroom was very sleek and spacious.
Our bedroom had a big Chewton glen treehouse bed plenty of pillows. There was a TV in every room: The kids' room in the atic seemed like a fun place, although in order to get there you had to go up a very steep ladder. Not so much the going up but the challenge of coming down!
The terrace, apart from the magnificent views, was the home of a grand jacuzzi. The water was kept very warm at all Chewton glen treehouse We ordered Room Service. An iPad gave us the different menu options and also placed the order for us. When the food arrived all neatly packed in a wooden hamper we realised that one of the dishes wasn't what we really ordered. But never mind, it was really delicious! Breakfast also arrived, the following morning, in a hamper. The newspaper we wanted Chewton glen treehouse did, though.
The fresh juices and milk, once again in those lovely containers, the pastries, breads and charcuterie were of a very high standard. The staff were very pleasant and professional although some with quite a lot more experience than others.
Overall, the hotel, its grounds and facilities are fantastic. It certainly is the right place for celebrations and special dates and we would recommend Chewton glen treehouse place to any 5-star hotel lovers. We came to Chewton Glen for a mini-moon after our wedding and were somewhat fraught after traffic problems Spa treatment was fabulous and then we saw the treehouse Huge, beautifully set out, well-equipped with a kitchenette as well as enormous bathroom.
Nothing to fault and everything to love. We had to drag ourselves away!